Ghost Rider had to use a lot of CGI to turn Nicolas Cage into the Marvel superhero, but was his 6-pack abs another result of VFX or real?
Nicolas Cage played the lead role in Ghost Rider, but his shirtless scene raised questions over whether his abs were real or CGI. The 2007 Marvel movie brought Nic Cage to the superhero genre a decade after he was supposed to play Superman in Superman Lives. Directed by Mark Steven Johnson, Ghost Rider saw Cage play motorcycle stuntman Johnny Blaze as he became possessed by the Spirit of Vengence, giving him the character's flaming skull and motorcycle.
Ghost Rider arrived as the superhero movie landscape was evolving and received a mixed response upon its release. The origin film grossed over $225 million worldwide despite lackluster reviews, but this was still enough to eventually greenlight a sequel. Despite its flaws, Ghost Rider gave audiences another zany performance by Cage (something he's become more known for in recent years). One moment in the film surprised audiences for a different reason, as Cage's new ripped physique was shown. The shirtless scene was so shocking, it resulted in some questioning if his abs were enhanced using CGI.
The status of Cage's abs was a topic of conversation when Ghost Rider hit theaters and remains one that some could have today. So, what is the truth behind his abs? Nicolas Cage's abs in Ghost Rider's shirtless scene are indeed real. The actor – who was 42 when filming the movie – has confirmed in interviews that this moment was the result of a lot of hard work. He told IndieLondon that he didn't eat anything the day of the shirtless mirror scene and only had candy corn sugar to help his 6-pack abs pop even more.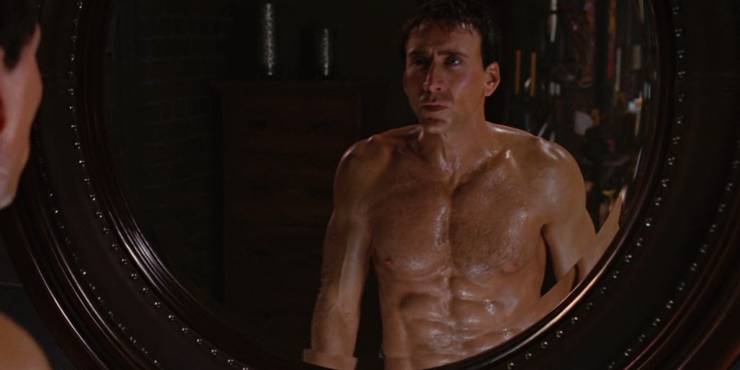 Cage's physical transformation for Ghost Rider puts him in the long list of actors who overhauled their appearance to play a superhero and then showed it off in a shirtless scene. Tobey Maguire's added muscles for Spider-Man are on display early in the film, while Paul Rudd and Chris Pratt more recently highlighted their transformations for the MCU – in Ant-Man and Guardians of the Galaxy, respectively. This practice isn't just done for Marvel movies though, as Ben Affleck got ripped to play Batman and viewers got an extended reminder during his workout scene in Batman v Superman: Dawn of Justice.
Viewers of Ghost Rider who did question the legitimacy of Cage's abs aren't alone, as co-star Eva Mendes admitted in an interview that she would've thought they were CG if she hadn't seen them in person. That said, there was obviously an extensive amount of VFX needed to turn Cage into Ghost Rider, even if his abs weren't impacted. Ghost Rider did have to do some digital work on Cage's body though, as they digitally removed tattoos from Cage's body – including one on his left arm of, ironically, a flaming skull. However, that is where the CGI stopped when it came to Cage in Ghost Rider.